Strategies
Oil spill response strategies that protect our coast.
Overview
WCMRC manages an ongoing strategic planning process aimed at protecting wildlife, economic and environmental sensitivities, as well as the health and safety of responders and the public.
The plans developed through this process provide detailed operational-level information to all involved parties regarding roles and responsibilities should a spill occur. We engage coastal First Nations, governments and other local stakeholders in developing these strategies and in testing them through exercises and drills.
WCMRC Marine Oil Spill Response Plan
WCMRC has a marine spill response plan outlining procedures and processes for responding to incidents across B.C.'s entire coastline.
The plan is reviewed, exercised and updated on an ongoing basis to ensure compliance with the requirements of the Canada Shipping Act. The plan is based on the principles of ICS and is used as an operational response tool to guide WCMRC's Spill Response Manager and supporting personnel during the incident. The plan includes information on notification, initial assessment, allocation, mobilization and ongoing spill management.
Table of Contents
1.0 – Introduction
2.0 – Notification
3.0 – Incident Assessment
4.0 – Mobilization
5.0 – Response Organization
6.0 – Response Strategy and Strategy Selection
7.0 – Planning Cycle
8.0 – Branch Roles and Responsibilities
9.0 – Safety
10.0 – Training
11.0 – Exercises
12.0 – WCMRC Membership
13.0 – Background and Supplementary Information
14.0 – Plan Maintenance
15.0 – Quick Reference
16.0 – Forms
17.0 – Useful Data and Information
WCMRC Auxiliary Response Plans
In addition to our Marine Oil Spill Response Plan, WCMRC develops response plans, guidelines and templates for different response needs including wildlife management, submerged and sunken oil, and joint information.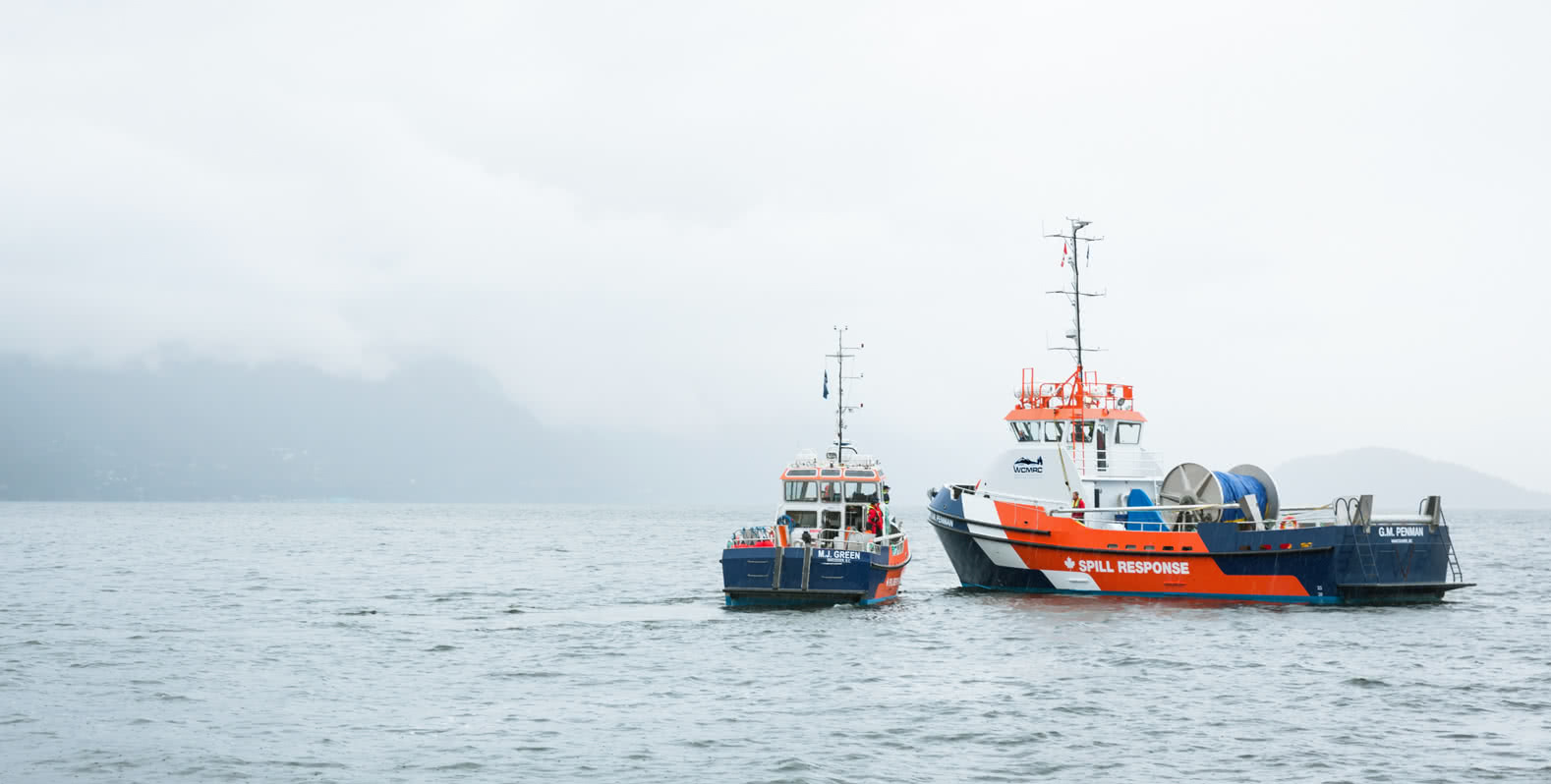 Trans Mountain Enhancements
With the Trans Mountain pipeline expansion scheduled to begin operations in 2020, WCMRC is implementing a spill response enhancement program that will see $150 million invested in new equipment and new response bases in the Salish Sea. These enhancements will cut response times dramatically and significantly increase response capabilities along B.C.'s South Coast.
The enhanced response regime will be available to all users of the local marine network. Implementation of the enhancements is expected to lead to more than 130 new full-time employment opportunities, most of which will be on Vancouver Island, where the new bases will reside.
Enhancement Details
Reduced initial response times:
– A maximum of two hours for Vancouver Harbour and the Fraser River west of Port Mann Bridge
– A maximum of six hours for the remainder of the southern shipping lane
Completed delivery of 20,000 tonnes of capacity within 36 hours of activation
42 new response vessels (doubling WCMRC's fleet to 84 vessels)
Geographic Response Strategies
Geographic Response Strategies (GRS) are site-specific response plans tailored to protect sensitive areas threatened by an oil spill. Globally recognized as an integral element of response planning, GRS's are a fundamental part of WCMRC's preparedness regimen. Our GRS's are also an important component of the federal government's move to a risk-based approach to response planning.
What do GRS protect?
GRS are created to safeguard archaeological and cultural sites, critical habitats and infrastructure, public beaches and parks, sensitive shorelines, and water-dependent commercial users. They protect elements of larger and smaller microhabitats rather than individual species.
How are GRS used?
GRS are used during the first 24 hours of a response. Control and containment of an oil spill are the first priorities, followed by the implementation of GRS. The strategies help responders identify vulnerable shoreline areas and describe how to protect them. GRS contain crucial information on unique operating issues, notification protocols, mobilization procedures, logistical resources, and operations and planning materials. They are designed to supplement existing regional response plans and serve as flexible guidelines for on-scene responders.
WCMRC's GRS
Since creating our first GRS in 2013, WCMRC has met with thousands of coastal British Columbians to map their part of the coast and ensure local sensitivities are protected. Each GRS we create is field-tested to ensure the strategy is effective. WCMRC has created more than 900 GRS. Our goal is to create strategies for all 27,000 km of B.C.'s coastline. To view the existing GRS visit coastalresponse.ca.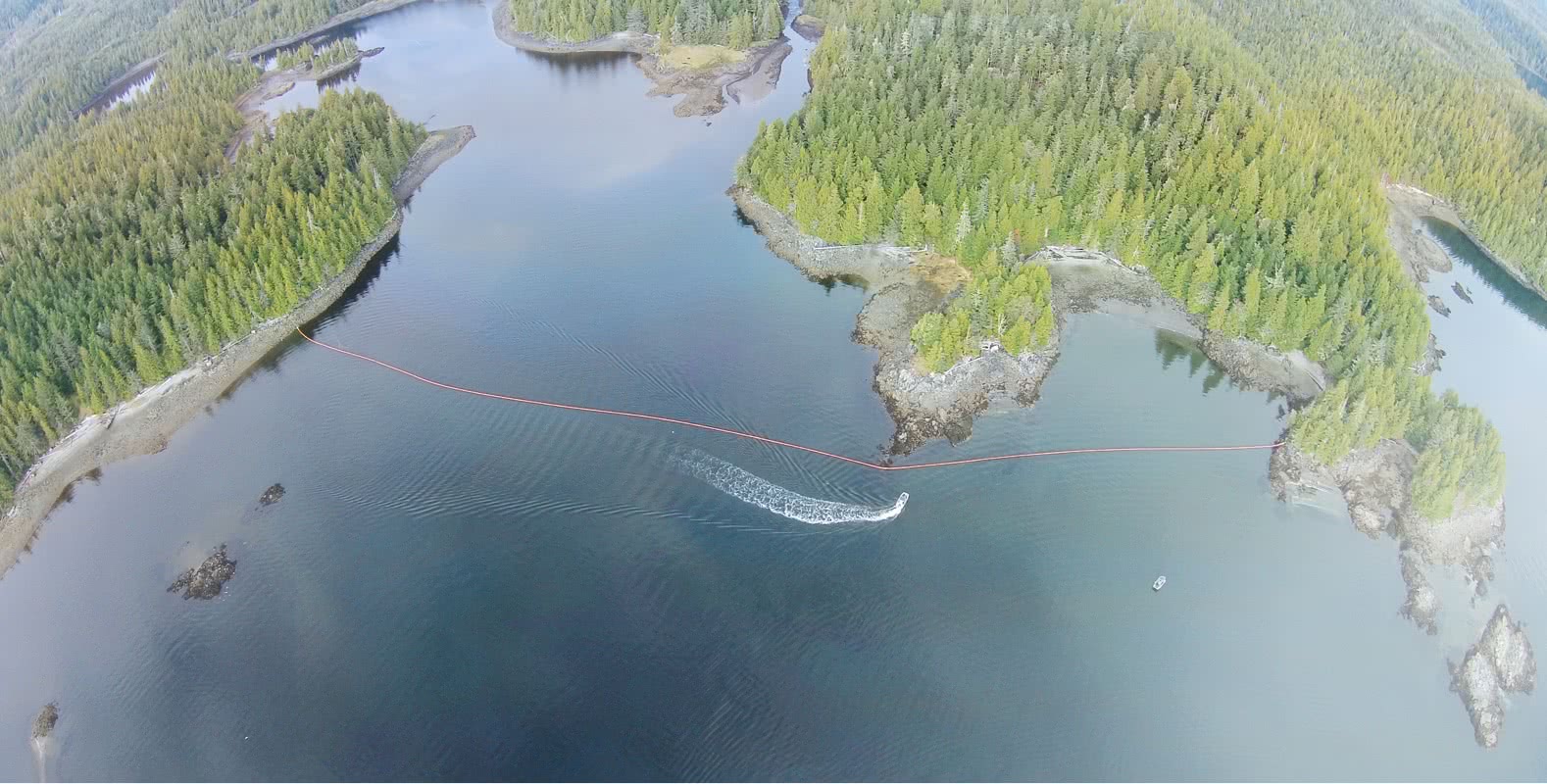 Coastal Response Program
WCMRC launched the Coastal Response Program in 2017 to share existing GRS and involve communities in response initiatives. We believe effective spill response requires strong relationships with local partners. We work closely with coastal First Nations, local NGOs and conservancies, large and small industry, and municipal, regional and provincial authorities to ensure their participation and integration in spill response planning.

How It Works
Communities participate in spill response planning in several ways, including:
Helping to identify at-risk resources
Becoming response contractors
Sharing local knowledge and expertise
Participating in training workshops
Storing and deploying response equipment
Learning what to do if a spill occurs
Visit coastalresponse.ca to learn more.