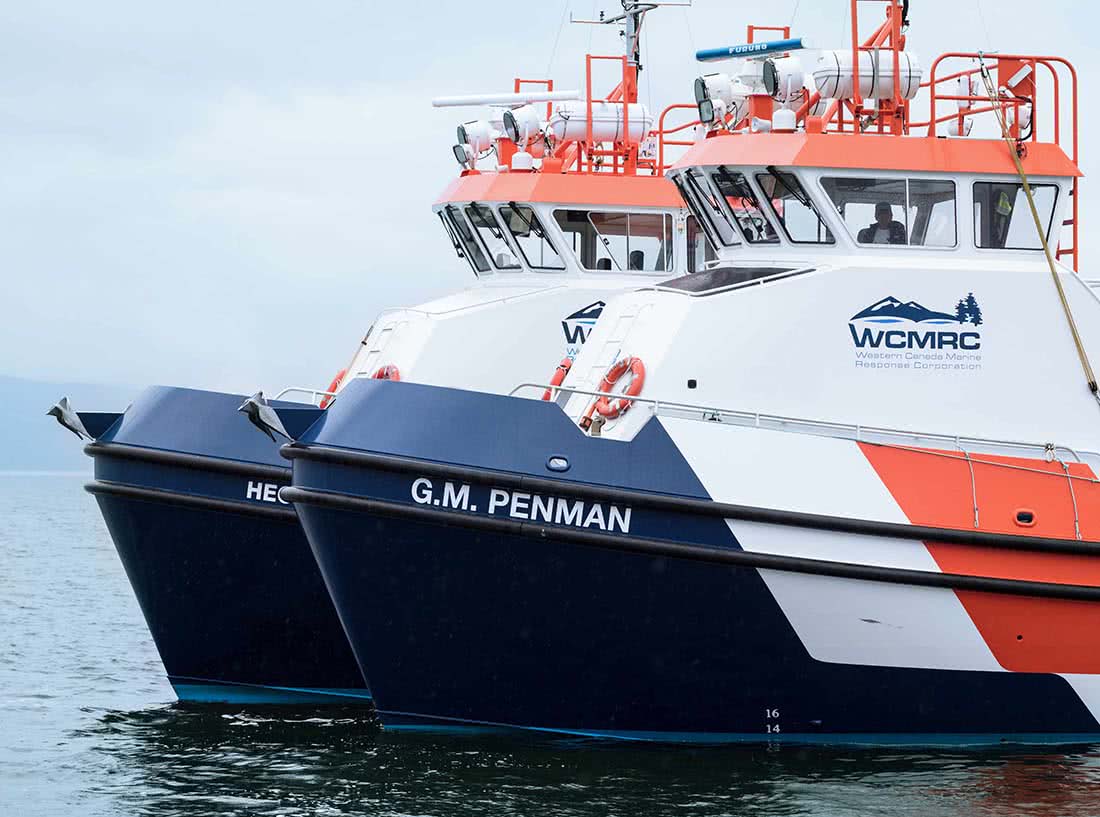 Membership
WCMRC has more than 2,300 members in its community.
Overview
WCMRC's member base includes oil handling facilities, barging companies, freighters visiting our ports, ferries, cruise ships, U.S.-bound vessels traveling through Western Canada's waters and others, including, but not limited to, forest industry facilities, fish camps and float plane companies. Member fees are used to keep WCMRC's operations in a ready state.
Membership Options
WCMRC's members can be broken down into two categories:
Shipowners
Shipowners of vessels 400 gross tonnes or greater, or oil tankers over 150 gross tonnes or greater, calling on ports on Canada's West Coast must have a mandated agreement with WCMRC and pay annual fees to the organization in order to be members.
Oil Handling Facilities
Any facility that loads or unloads oil across our marine environment must also pay fees to WCMRC. The fees paid by oil handling facilities are determined by the Bulk Oil Cargo Fee (BOCF), which is a fee applied to each tonne of oil transferred. The fees paid by oil handling facilities cover the majority of WCMRC's operational costs on annual basis.
As part of our response service package, we offer three types of memberships and agreements.
Full Membership
This option is offered to members that, under the Canada Shipping Act, are required to have an arrangement with a certified response organization. These members will receive the full benefits of our response service, including equipment and supplies, for the duration of a spill. Full members are entitled to discounts on certain WCMRC rates.
Vessels
The Bulk and Non-Bulk Oil Ship Membership Agreements are available from the Chamber of Shipping of British Columbia or the Shipping Federation of Canada.
Oil Handling Facilities
Members that receive or ship product across their dock are also required to pay a Canada Shipping Act-legislated bulk oil cargo fee.
Subscriber Membership
This option is offered to environmentally-conscious companies that, although not required under the Canada Shipping Act, want to be proactive in their management of potential oil spills. Subscribers can utilize WCMRC's professional training, contingency plan testing and associated services, with the added advantage of knowing that WCMRC will assist them in the event of a spill.
Third-party Agreement
This option is offered at the time of a spill when the polluter requires both equipment and personnel to assist in the cleanup. Any company can request assistance, but if they are not already a member they must sign a third-party agreement and accept the financial responsibility to cover the cost of the response. Fees for manpower, equipment rental and administration are billed at standard rates.
Rates & Fees
WCMRC's membership fees cover WCMRC's annual operating costs. They do not cover the costs WCMRC incurs when responding to a spill, which, as per Canada's Marine Liability Act, must be paid by the polluter.
Rates and fees are assessed on an annual basis.
Full Membership
$775.00 per year
For each vessel or facility (effective February 1, 2017)
Ship (Bulk Oil), Ship (Non-Bulk Oil), Oil Handling Facility
Subscriber Membership
$775.00 per year for each vessel or facility (effective February 1, 2017)
Bulk Oil Cargo Fee
$1.760 per tonne
Effective January 1, 2023, amended from previous $1.928 per tonne
Capital Asset & Loan Fee
$0.000 per tonne
Effective January 1, 2021, amended from previous $0.000 per tonne
Personnel & Equipment Rental Rates
Additional Info