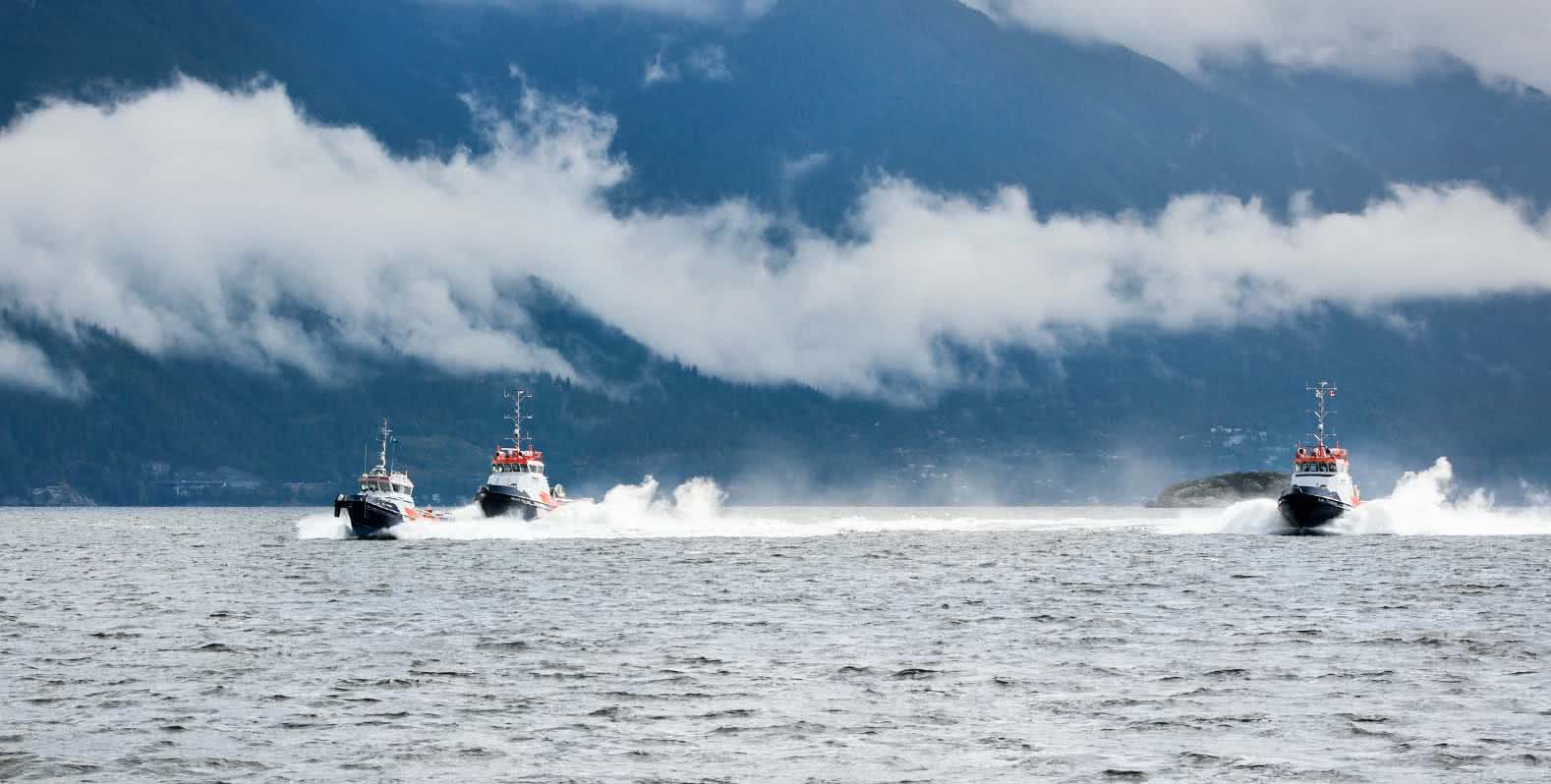 Our Story
Canada's first marine spill response organization, established in 1976.
Who We Are
WCMRC is the only Transport Canada-certified marine response organization on Canada's West Coast. On average, we respond to 20 spills each year.
Our mandate is to ensure there is a state of preparedness in place when a marine spill occurs and to mitigate the impacts on B.C.'s coast. This includes the protection of wildlife, economic and environmental sensitivities, and the safety of both responders and the public.
WCMRC is an industry-funded organization with more than 2,300 members. Membership is mandatory for vessels of a certain size calling on Canadian ports, as well as for oil-handling facilities receiving or shipping oil across their docks.
What We Do
At WCMRC we consistently work to improve and expand our operations to exceed global standards and deliver advanced marine spill response.
Our on-water operations form the core of our organization. WCMRC's Operations team conducts continuous training and equipment maintenance to ensure ready-state response capability. In the event of a marine spill, our vessels and personnel are on-scene managing the recovery.
WCMRC's Response Readiness Team (RRT) supports the Operations department's ability to respond quickly and effectively to spills. The RRT creates and manages localized environmental protection strategies through ongoing field work, regularly reviews and updates our spill response plans, and manages key coastal partnerships through our Coastal Response Program.
WCMRC can also support in select response roles beyond on-water recovery and cleanup. This could include managing and staffing the Incident Command Post and training personnel in incident management.
History
1976
In 1976, an industry cooperative was established to clean up oil spills and other marine incidents in Vancouver Harbour. Originally named Burrard Clean Operations, the coop's mandate was to maintain response preparedness and to respond to local marine spills from the coop's members. Their geographic area of response was Burrard Inlet, which was defined as those waters and shorelines east of a line drawn between Point Grey and Point Atkinson.
1995
In 1995, following two large spills in Alaska and the state of Washington, the Canada Shipping Act was amended to include regulations and standards to protect all navigable waters in the country. It placed restrictions on tankers and barges of 150 tonnes and greater, on all ships 400 tonnes and greater, and on oil handling facilities that receive deliveries from these vessels. When these changes came into effect, WCMRC was formed to respond to spills in all of Western Canada's navigable waters, and Burrard Clean became a division of WCMRC.
Vision & Values
WCMRC is committed to ensuring our response capability is always in a ready state and that our team is prepared to mitigate the impact if an incident were to occur.
Our Vision
To be regarded by communities and industry as the leader in marine oil spill response.
Our Values
We believe that putting our values into practice creates long-term benefits for our employees, members, stakeholders, suppliers and the communities we serve.
Safety and Readiness
Open and honest communication that fosters a climate of trust
Integrity in everything we do
Protecting the environment
Continuous improvement through competency, creativity efficiency and teamwork
Celebrating individual and team successes
Area of Operations
Our geographic area of response covers all 27,000 km of Western Canada's coastline, extending to the 200 nautical mile limit. Our response area also includes all inland navigable waters in coastal British Columbia. We have bases, personnel and equipment caches stationed at strategic locations up and down the coast.