Overview
WCMRC's employees work at the intersection of government, industry and B.C.'s coastal communities. Our team is comprised of marine and corporate professionals whose actions have a significant positive impact on the protection of our coastal environment.
We're looking for team members who are committed to continuous improvement and personal growth. Every day we work to ensure we're operating to the best of our abilities using the safest practices. We seek out individuals who strive to achieve excellence in their work.
Spill Response Careers
Our spill response team is comprised of marine professionals with diverse skills and experience. What they have in common is their ability to effectively manage and direct spill response procedures within the first few hours after response activation. Their actions can significantly reduce the negative impacts oil has on the surrounding environment. On a spill site, WCMRC personnel act quickly to assess and respond with appropriate spill response strategies.
Learn more about marine careers at Imagine Marine.
The Imagine Marine website is a great place to learn more about the marine sector, including types of jobs, education, and funding opportunities, as well as access to videos and interviews from students/professionals in our sector.
Casual Employment
All of our response bases also employ casual workers (Marine Engineers, Masters, Deckhands) to support our operations. If you are interested in casual work please contact us at: casual@wcmrc.com
Corporate Careers
Our corporate office is the support centre for our field operations. Support functions include finance, human resources, business support and response readiness. Project leaders oversee a variety of projects from developing geographic response plans to response readiness initiatives.
Our Values
Five key values underpin the work we do: honesty, competence, creativity, teamwork and environmental protection. We work hard to develop teams
of talented individuals, and we foster a climate of trust and integrity through open and honest communication. These principles have real and lasting benefits for our employees, shareholders, suppliers and the communities
we serve.
Health and Safety
Health and safety are our top priorities. We believe that no task is so urgent that we cannot complete it safely. We closely manage the health and safety risks of all our operations, providing thorough safety training to prevent accidents and injuries. No employee should have to subject themselves, or a colleague, to a situation that may be unsafe, a risk to their health or a risk to the environment.
Environmental Protection
Our mission at WCMRC is to protect British Columbia's pristine coastline. We apply a stringent environmental policy to all aspects of our operations, including our business planning, operating practices and training programs. When we're responding to a spill, we adhere to the required environmental and legal standards, and we work to mitigate any environmental hazards associated with our activities.
Inclusion and Employment Equity
WCMRC is committed to fostering, cultivating and preserving a culture of diversity and inclusion.
Our human capital is the most valuable asset we have. The collective sum of the individual differences, life experiences, knowledge, unique capabilities, and talent that our employees invest in their work represents a significant part of our culture.
We embrace and encourage our employees' differences in age, color, disability, ethnicity, family or marital status, gender identity or expression, language, national origin, physical and mental ability, political affiliation, race, religion, sexual orientation, socioeconomic status, veteran status, and other characteristics that make our employees unique.
WCMRC's diversity initiatives are applicable to our practices and policies on recruitment and selection; compensation and benefits; professional development and training; and a work environment built on the premise of employment equity that encourages and enforces:
Respectful communication and cooperation between all employees
Teamwork and employee participation, permitting the representation of all groups and employee perspectives
Work/life balance to accommodate varying employee needs
Employer and employee contributions to the communities we serve to promote a greater understanding and respect for their diversity
Everyone at WCMRC has a role to play in supporting our commitment to diversity and inclusion and an overall responsibility to treat others with dignity and respect in a fair and non-discriminatory manner. Our employees are expected to exhibit conduct that reflects inclusion during work, at work functions (on/off the work site), and at all other company-sponsored and participative events.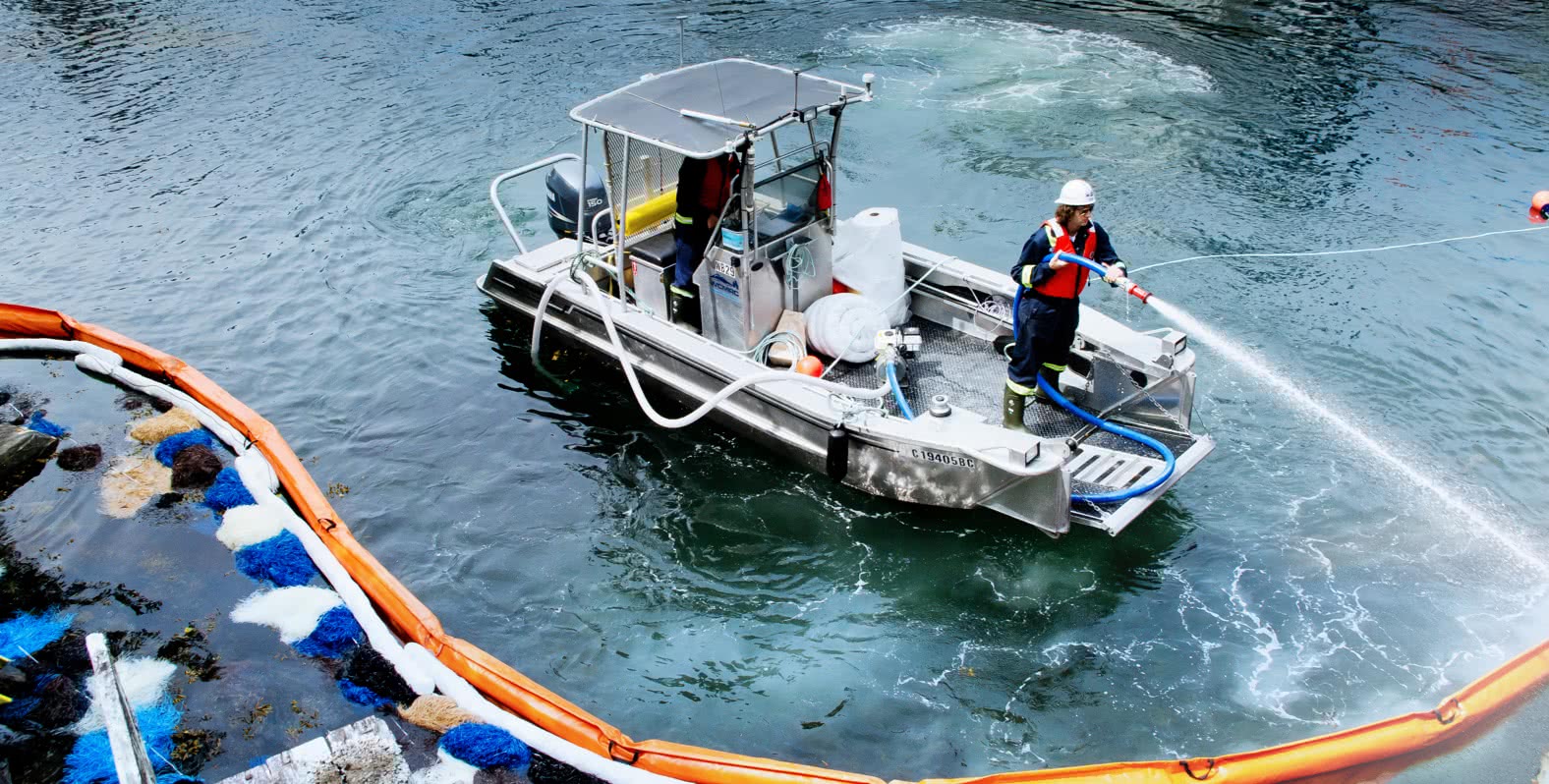 Training & Development
We help our employees stay sharp with mentorship, training and professional development programs. In addition to our ongoing Transport Canada-monitored tabletop and on-water exercises, our spill response team members receive equipment-specific training, response strategies training and cross-border training alongside our mutual aid partners in Alaska and Washington State.
WCMRC also provides specialized training such as vessel master certification, and forklift and crane training. Our health and safety training includes courses on first aid, confined-space entry and atmospheric testing, as well as certification courses in Workplace Hazardous Materials Information System (WHMIS) and Transportation of Dangerous Goods (TDG). We also offer tuition reimbursements for team members who pursue applicable education or training outside the workplace.
Employee Benefits & Entitlements
WCMRC offers a full suite of employee benefits, including:
Group health/dental and wellness coverage
Short/long term disability
Life insurance
Group pension plan
Our package of extra entitlements supports the health and well-being of our team members. Additional supports we offer include:
An annual health and fitness allowance
Reimbursement towards the purchase of approved safety shoes/boots and prescription safety glasses
Length-of-service recognition awards